Please follow this link to go to the Houston Methodist Research Institute [PET Imaging] site for detailed information about the core.
PET/CT
Our center houses a state-of-the-art Philips Gemini TF PET/CT machine. This high performance machine associates a PET scan with LYSO crystals, whose resolution at the center of the field of view is 4.8 mm, to a 64-slice CT scan. Time-of-Flight technology provides a better image quality by reducing noise. It also improves sensitivity, especially for whole-body scans.
We provide a wide array of 18F- and 11C-labeled radiotracers, as well as the methodological expertise to perform kinetic modeling, image processing, and dosimetric calculations.
Our center can also perform fully quantitative PET scans by measuring the metabolite-corrected arterial plasma input function.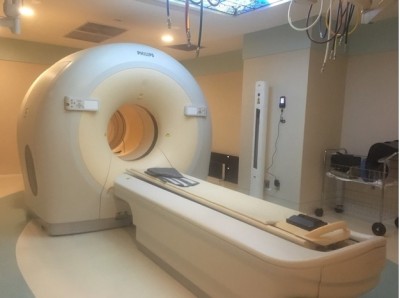 SPECT/CT
The Philips Precedence SPECT/CT machine associates a multislice CT with a flexible dual-headed gamma camera.
The machine is equipped with low to medium energy high-resolution collimators, suited for most diagnostic radioisotopes.
Images can be acquired in both planar and tomographic mode, with both static and dynamic frames.